The Jewish Theatre in Kraków – Midrash Theatre®
The Contemporary Jewish Theatr in Kraków – Midrash Theatre® exists in Kraków since 2008. Thanks to the initiative of Tanya Segal – rabbi, theatre director and founder of the Theatre, a group of professional artists connected with the Beit Krakow community has been creating original theatre performances, exploring the spiritual legacy of the Jewish people. Often inspired by traditional Jewish texts, the performances are deeply rooted in the contemporary Jewish-Polish reality.
See: The Midrash Theatre® Method >>
Performances coming in Fall 2019: Women& Monologues (based on Hanoch Levin's writtings)  and Rozalia
The last performance of "The Mystery Horse of Kazimierz" – carried out in cooperation with the Historical Museum of the City of Krakow, was presented at the Main Market Square in Krakow and in front of the Old Synagogue in June 2018.
http://teatr-zydowski.krakow.pl/konik/
"The Lonely Tango of Vera Gran" – a spectacle based on the tragic history of the well-known Polish singer Wiera Gran, in reference to the difficult times of war and with a strong contemporary social message.
http://teatr-zydowski.krakow.pl/samotne-tango-wiery-gran/
"Yankiele" – a musical performance inspiring a new musical way of thinking in reference to traditional Galician Jewish music.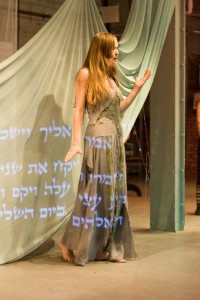 Over the past years, in close cooperation with institutions based in Krakow's Jewish District – Kazimierz, we have created the following productions: Melody of Silence (2008), Mysteries of My Grandma (2009/2010), Five (P)Arts (2011), art installation: 5ZTUKA (2012), Nigun Jam (2012), Megilat Polin (2013)
The Jewish Theatre in Krakow – Midrash Theatre has also worked in spaces of Jewish Krakow in order to incorporate the audience members into the creative process, thus we have produced original musical midrashim: ABYA, Shema Israel, Szirat Hayam, Maim and Eikha (musical laboratory with Mikolaj Trzaska – famous Polish jazz musician); exhibitions "The Words of Kohelet in Images" (The Old Synagogue museum, Galeria Szalom) , "Song of songs" (Trzecie Oko gallery), "Dibrot" (Trzecie Oko gallery).
In 2012, in cooperation with the Dance Theatre of Rina Schenfeld, we produced a new version of her author performance in the context of Poland: "Dancing with Chopin (in Galicia)". Thanks to this cooperation Krakow's young dancers and students had the possibility to meet this unique artist during dance workshops and lectures.
Performances:
Musical Midrashim: