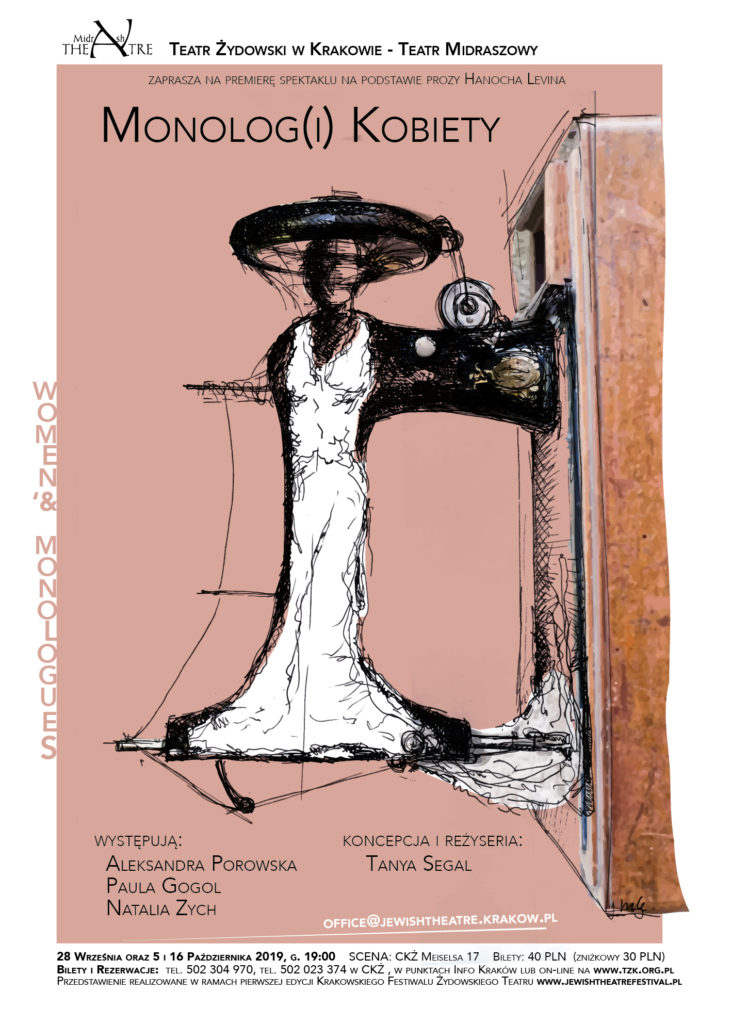 Performances: 28.09, 5 i 16.10.2019, at 7:00 pm,
Stage:  Meiselsa Street 17
Tickets and Reservations:  on-line, in the CKŻ Meiselsa St. 17 and in the InfoKrakow information offices, by phone : +48 502 304 970, +48 502 023 374 (except saturday) or via e-mail:
biuro@teatr-zydowski.krakow.pl
Ticket Price: 40 PLN ( Students, Seniors 30PLN, discounts for groups)
Starring:
Aleksandra Porowska
Paula Gogol
Natalia Zych
Creator & Director:
Tanya Segal
Produced by:
Jewish Theatre in Krakow – Midrash Theatre (c) 2019
"Women'& Monologues" is the latest performance of the contemporary Jewish Theater in Krakow – the Midrash Theater inspired by the prose of Hanoch Levin. Dramas of the Israeli playwright of Polish origin Hanoch Levin, known and liked in Poland, are often shown on the Polish theater stage. This time, Tanya Segal – an Israeli rabbi and theatre director will present to the Krakow's theater audience Levin's sketches, whose form, language and content are full of such characteristic for him – at the same time inspiring and frightening – controversy of feelings. Through the prism of experience of more than a decade of work in Poland, the director shows the unknown page of the work of this artist who is so popular here, adding the perspective by using the method of building the course of action known from ancient synagogue sermons (drashot) of the type 'Ptichta' (from the Aramaic פתיחתא – opening).
In creating the performances, the director uses her author's method "Midrash Theater", developed during studies at the University in Tel Aviv and at the rabbinical college in Jerusalem. In this method, the artist "sews" a show from rehearsal to rehearsal with the participation of all involved artists – actors, set designers, musicians … by "stitching together" their immediate improvisational responses to the source text. This method gives the performances a deep contemporary character and meaning. "Midrash Theater" is a post-avant-garde approach, which in essence is a transfer to the theatrical ground deeply rooted in Jewish tradition method of deepening the understanding of the text called "Midrash". Read more about the "Midrash Theatre" method >>
The performance was created as a part of the first edition of Krakow's Jewish Theatre Festival